After Hours Veterinarians In Perth
Estimated Reading Time: 2 min | Last Updated: June 26th, 2018
Open 24 hours on weekends and public holidays
Perth Vet Emergency is located in Yokine, Perth. The team of Emergency & Critical Care veterinarians and nurses are available to help all sick and injured pets when general practitioners are closed. No appointment is required for pets who need our help every night, weekend or public holiday. We're open without fail.
The PVE Team is equipped with state-of-the-art facilities including surgical suites, intensive care, in-house laboratories, ventilation equipment, ultrasound, antivenene for tick or snake bites, endoscopes, dialysis and blood transfusion equipment, and much more.
Upon arrival to PVE, owners will be required to complete a registration form providing contact information as well as general details about their pet. They will then be consulted by the next available veterinarian in a private consultation room. While PVE makes every attempt to see patients as quickly as possible, it's important to note that patients are seen in order of their level of emergency. Critical pets are taken straight to the treatment area to be stabilised by the emergency team. The veterinarian then meets with the patient's owners to discuss their condition and develop the necessary treatment plan.
Pets who are stable on arrival remain with their owners until a veterinarian can see them in a private consultation room. An examination will take place and unless the pet requires hospitalisation consented by the owners, they're immediately discharged with a patient record and any medication required. A full veterinary report is forwarded to the pet's regular veterinarian for their records.
We encourage owners to ask questions and discuss any concerns with the PVE veterinarian. It is vital you understand your pet's treatment and are comfortable with the medical plan provided. We understand it is always stressful when you visit an emergency veterinary hospital so feel free to take a moment and ask our friendly staff to explain anything you're concerned about or don't understand.
We have provided Information for Owners on our website to answer any frequently asked questions and explain the process in the event you need our help.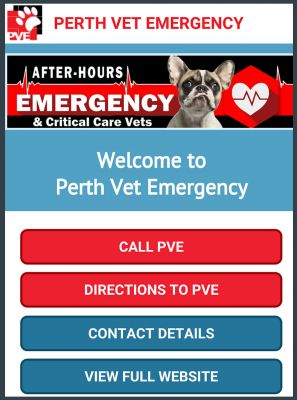 If you haven't been to Perth Vet Emergency before and are unsure of our location, we've made finding us an easy process. Simply visit pve.net.au on a mobile phone. We recommend saving this website on your phone for any time-sensitive emergencies in the future. When the website is visited on a mobile phone, you'll be presented with a simple page that looks different from our standard website. Click "Directions To PVE" to be directed to us via Google Maps. You won't need to enter your location or our address. This mobile application will also direct you along the fastest route. But please remain calm and drive safely to us. We're available via a call using this same application if you need our help on your journey.
In the event you need assistance before travelling to PVE, feel free to call us on 1300 040 400. We're available to help every night, weekend and public holiday. While no appointments are required, we do ask you give us a quick call if your pet is critical or experiencing a dire emergency so our emergency team are on stand-by for your pet's arrival.