Meet Kennedy the brave Greyhound
Estimated Reading Time: 1 min | Last Updated: February 28th, 2019
Kennedy is a 3-year-old Greyhound who recently joined the PVE Canine Blood Donor Program. Our team contacted Kennedy over the Christmas period to provide some urgently needed blood, and thankfully his lovely owner Paula was able to bring him down straight away. He was really calm and brave during his first donation and he got a little chicken snack for being such a good boy. We cannot thank him enough for helping to save the lives of pets in need in the Perth region. Just like in humans, every donation is critical and we couldn't thank our volunteers enough.
Kennedy joined Paula's family last year and has settled into his new home well. He has hobbies of sleeping, playing with his stuffed toys, playing fetch, and chasing water from the hose (which can make watering the garden a challenge!). The funniest thing about the spritely Greyhound is that every so often he has a rapid burst of energy and will sprint around the yard, afterwards settling quickly back to his gentle docile self again. His favourite food yoghurt – he can hear Paula open the container from the other room and immediately bounds in for a lick or two!
If you and your pooch are interested in joining the PVE Canine Blood Donor Program, there is specific criteria your dog must meet:
In good health
Greater than 2 years old
Above 25kg in weight
Have a calm temperament.
We can never have enough volunteers to help us save the lives of the pets in need. If you would like some more information, contact our clinic: 1300 040 400.
Estimated Reading Time: 2 min.
Transporting Your Sick Or Injured Pet
Guidelines for safe transportation of sick or injured animals These are some general guidelines for the safe transportation of sick/injured animals from one location to...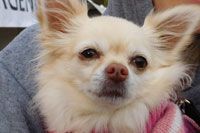 Estimated Reading Time: 2 min.
Pet Trauma Symptoms And Advice
What to do if your pet has been hit by a car or attached by another animal Any pet involved in a motor vehicle accident...
Estimated Reading Time: 1 min.
What To Do If Your Pet Nearly Drowned
First aid for pets rescued from drowning Drowning can occur when a pet's head is submerged below water for a prolonged period of time causing...