Stories about our patients and their treatment
Perth Vet Emergency is an emergency and critical care hospital for companion animals. We take great pride in the articles we develop to help educate pet owners and give them the facts from the experts in emergency veterinary medicine. Here is our list of articles written about our patients and their experience while in our care.
While Lucky's owners were out one Saturday, he decided to help himself to a little treat which could have had serious consequences. Chocolate contains a compound called theobromine that is toxic to dogs and cats. Lucky was 'lucky' His owners discovered his misadventure early which resulted in a best case scenario for all involved. [Read More]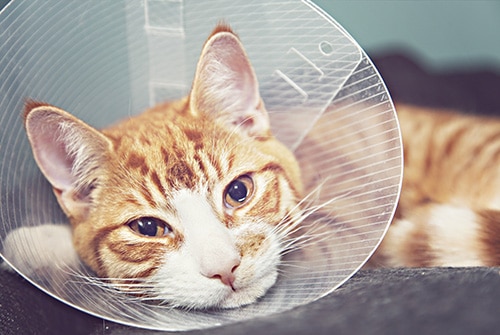 Garfield is a solitary cat who never ventures from his yard. His owners noticed a scratch and had it examined only to discover there were other injuries requiring surgery to ensure there would be no risk of infection after a cat fight. Infections from cat fights are very common and it is important veterinary attention is received to avoid this. [Read More]
Nibs' owners noticed she was keeping her left eye closed one Friday night and kept a close 'eye' on her through the evening. It didn't improve by the next morning, and her veterinarian was closed, so they presented her to Perth Vet Emergency for a checkup where Nibs was diagnosed with a corneal oedema (early stage) and after a few tests to make sure all was well, she was sent home with the appropriate medication. [Read More]
The 4 year old Staffodshire Bull Terrier's owners noticed he was quiet so they went investigating and found him looking guilty with a rat bait package hanging from his mouth. He ingested rat bait previously and they'd gone to great lengths to rid their property of all traces of this toxin. But Bernie's nose was in overdrive and he found a secret stash that could have had life threatening consequences had his owners not been so vigilant. [Read More]
Emma's owners noticed a bag of grapes missing. They'd heard the fruit was toxic to pets and took the time to present her to PVE one weeknight to ensure their pup was ok. Lucky for them, Emma was given medication to induce vomitting resulting in the missing grapes being removed from her stomach before causing any serious issues. [Read More]
Buddha is a bit of a social media legend and he is a very lucky boy. The 5 year old Red Heeler cross was hospitalised with his veterinarian and PVE after-hours for a week while we helped his kidneys heal. He didn't have any obvious signs of illness but his owner noticed he wasn't quite right and sought veterinary help. It was just as well. If this beautiful boy didn't get the early prognosis and treatment, he may not have survived this challenging illness.
Kidney failure is a very serious condition that can occur in dogs and cats. It does not improve without treatment and there are many symptoms which are not specific to this illness. Most often, a patient is critical by the time they are diagnosed and treatment commences. It is important pet owners familiarise themselves with this illness and the symptoms so the pet can be diagnosed early. [Read More]
Harriet is one extraordinary and very lucky Newfoundland who is grateful to the Greyhounds fostered by Greyhound Angels of WA. They saved her life!
This gorgeous girl's family noticed she wasn't well so they took her to her veterinarian who subsequently referred her to Perth Vet Emergency for diagnostic testing and critical care hospitalisation. Her pulse was weak, her gums were pale and she was in shock. Dr Addison examined, diagnosed and managed Harriet's treatment which resulted in an extraordinary story about Greyhounds waiting to find homes saving her life. [Read More]
On a Tuesday evening, adorable little Wendy (a Dwarf Lop) presented to PVE because she was restless, not eating and kept stretching as though in pain. During her examination, Dr Pattison noticed she was dehydrated and her bladder was small. She didn't appear to be in pain so further testing was performed resulting in diagnosis of an illness that is very common in domestic rabbits. [Read More]
Kira's owners found him vomiting and were surpristed to find pebbles in the contents. He had a history of swallowing things he shouldn't, and his veterinarian was closed, so they presented him to PVE for a checkup.
Upon presentation, he was bright and responsive with no signs that were of concern. However, he was uncomfortable when Dr Lovatt examined his tummy so he was taken to our treatment area for radiographs to see the cause of concern. The xrays presented a large number of pebbles in the stomach and colon which required removal as soon as possible to avoid further issues as a result of a blockage. [Read More]
Has your pet been to Perth Vet Emergency with a story you would like us to share? If so, please send us an email and include photos of your pet. We'll be in touch to discuss your pet's article. If you would like your pet's identity withheld, please let us know. We'll change the name and breed in our article to protect your privacy.
Join us on Facebook | Watch us on Instagram | Follow us on Twitter